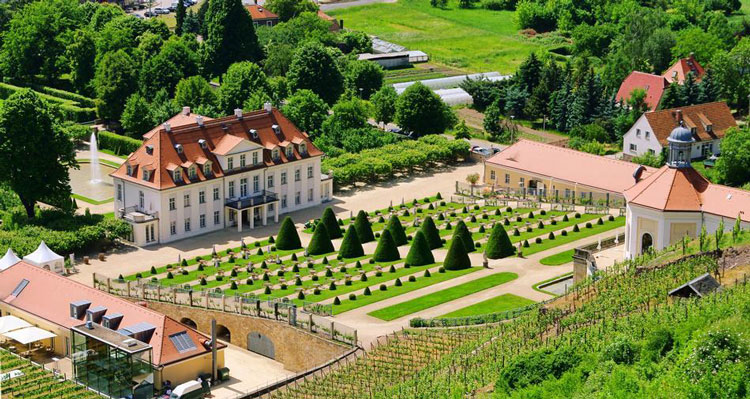 Today a district of Radebeul, Naundorf was an autonomous rural community up until 1923 and boasts the oldest history of all ten Lössnitz areas. The first mention of Naundorf dates back to 1144, thus predating the first official mention of Dresden.
The heart of Naundorf is the open village green Altnaundorf with its 32 protected historic farmhouses, the old school and the war memorial. Many of these buildings were lost to a terrible fire in 1822 and had to be rebuilt afterwards. The result is a very well-preserved, remarkably coherent village green at the heart of the original village, where nearly all of the farmhouses have now been awarded protected status.
Although only small, Naundorf has also been shaped by Radebeul's royal tradition of wine-growing. Still widely known today, the state-owned wine-growing estate at Schloss Wackerbarth was built from 1727 to 1730 in what was then Naundorf, before it was reassigned to the newly-founded district of Niederlössnitz in 1839. Another important estate is the Naundorf winery Johannisberg. It was bought in 1897 by Saxony's first car manufacturer Emil Nacke, who lived there until his death in 1933. Thanks to its chalky soil, Johannisberg was one of the few wine-growing estates in Lössnitz to survive the vine pest catastrophe of the late 19th century virtually unscathed. It is managed today by Schloss Wackerbarth, Saxony's state winery and is the namesake for Radebeul's Johannisberg winery.
Naundorf's vineyards are also part of the special protected area known as the "historic vineyard landscape of Radebeul". This area reaches from Oberlössnitz in the east to Niederlössnitz and Naundorf and all the way to Zitzschewig.
Naundorf is also of industrial importance, thanks to Radebeul's printing press manufacture with a history that goes back over 100 years. At the start of the 20th century, a factory quarter was established in the south-west of the district, well-connected to the train and Elbe river transport networks. Emil Nacke commissioned the construction of a large amount of residential housing in the vicinity, designed in the early "Heimatschutz" style for working-class families and civil servants. In 1912, an automated printing press factory was set up in Naundorf's industrial estate, which later became the Planeta printing press manufacture, the biggest producer of printing presses in the GDR. Against this backdrop, large workers' housing estates were built in the 1930s, still making a distinctive impact on Naundorf's modern appearance. Today, Naundorf is also home to the headquarters of the biggest industrial employer in Radebeul, a manufacturer of sheet-fed offset printers with more than 1,000 employees.
Despite its industrial significance today, Naundorf has also succeeded in keeping its rural charm, not least thanks to its well-preserved village centre, which is greatly treasured by both locals and visitors alike.