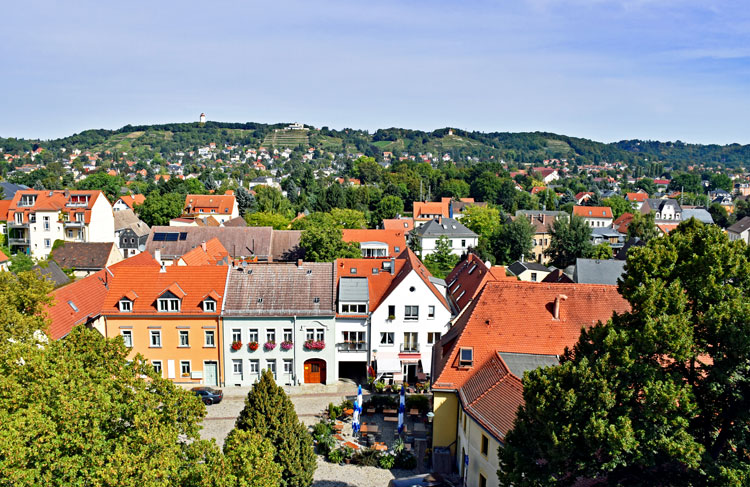 Culture, history and indulgence – modern living in historic surroundings
First mentioned officially in 1226, the historic village green of Altkötzschenbroda has formed the centre of the wine and garden town of Radebeul on the outskirts of Dresden since the Middle Ages. Today, Altkötzschenbroda invites visitors to take a relaxing stroll, discover and enjoy the town.
Steeped in history at the heart of Altkötzschenbroda, the Friedenskirche (Peace Church) borders one side of the village green. From its tower, a fantastic view opens up over the Elbe valley and its many vineyards. The church's name refers to the truce that was signed in 1645 at the local rectory, marking an end to the Thirty Years' War between Saxony and Sweden after "only" 27 years. A commemorative plaque, a copy of the treaty and a woodworm-riddled table serve as reminders to visitors of this momentous event.
On the streets of today's Altkötzschenbroda, original pubs with vaulted cellars and rustic restaurants are interspersed with galleries, artist's studios, local history museums and numerous architectural and cultural monuments as well as shopping opportunities. Shoppers can find designer fashions and souvenirs alongside locally grown fruit and vegetables as well as a traditional bakery. Every year during Christmas time, Altkötzschenbroda's small, but excellent Christmas market on the village green attracts young and old visitors alike, still hoping to find a real sense of Christmas spirit during the most wonderful time of year.
Extensive renovation work was carried out in Altkötzschenbroda from 1994 to 2012. During this time, approximately €9.5 million were spent on restoration work, of which nearly two-thirds were spent on public infrastructure and facilities and one-third was spent on private properties. The key priorities of the restoration work in Altkötzschenbroda were to preserve the historic village green with its traditional village buildings and to revive the area, re-establishing it as an attractive residential and business location with a high quality of life.
Our four-room (two-bedroom) semi-detached properties are a prime example of how this goal was achieved and Altkötzschenbroda's village centre has become a modern and stylish place to live with a special historic flair . Prospective buyers can look forward to a first-time occupancy in one of the most highly sought-after residential locations in all of Radebeul.
The cultural highlight in Altkötzschenbroda is the autumnal wine festival with an international travelling theatre festival, which is held every year in September. Every spring, fans of cowboys and Indians come together from all over Germany in the nearby Lössnitz Valley to bring the Wild West back to life at the famous Karl May festival.